Last Seen is a series of graphite drawings made with both direct and indirect reference to CCTV footage and police photography of the last known recorded image of a person before or at their disappearance or death. The words 'last seen' are often invoked, and carry with them a notion of hope – a person last seen may still be alive – while these images are one step beyond this, describing the 'last scene' of a person's recorded life. I find a great tension between the fact that these images are in the public domain, while simultaneously being one of the most private and sad moments of a person's existence.
I find these photographs fascinating, as they are taken not for artistic purposes but for the purpose of recording a traumatic, violent event in as stark and objective detail as possible. Composition is unimportant, but because of the nature of crime scenes, patterns start to emerge - the distant shot where photographers cannot get close access to a scene, shots of police, bowed heads, empty spaces, barriers shielding something gruesome. Unthreatening landscapes become oddly disturbed by tape and police cars, seemingly innocent houses become charged with something sinister, simply through the banality and blankness of the photograph.
They are spaces which somehow should not have been returned to, they are so unworthy of being photographed – and so the fact that they have been makes us understand that there is more to the space than we can see.
The drawings are made in two textures of graphite to create a surface which is at once matt and shiny, and resemble photographic negatives. Because they have a shifting relationship with the light one must observe them almost forensically, moving around to catch the light and with it, details and clues. The nature of the pencil creates an ambiguous image, something in between photograph and drawing. The ethics here are blurred, the rights of who owns these images debatable, and I hope by drawing them to elevate the photographs into something beautiful at least, a homage to the victims. Some are well known, others are anonymous.
The Death of Walter Scott 4.4.15
Live, Moments Ago (The Death of Mike Brown)
This film is a reaction to the fact that Michael Brown lay for four hours on a hot pavement after being fatally shot in Ferguson, Missouri in August 2014. The film is an attempt to make some meaning of that time, and is a frame by frame reconstruction of a tiny amount of mobile phone footage. By drawing and redrawing it, time is reinvested into the image, as a homage and to add value. The frames have been worked over and over causing the paper to tear and rupture, almost resembling burning, and recalling the violent protest and fires that broke out after the event, as well as historical lynching fires. The image breaking up and pixellating leaves us uncertain and nervous.
In both Hysteria and Live, Moments ago I am interested in how the materiality of an image can support its meaning, the tearing or disintegration of paper and marks alluding to the criminal and emotional disruption of public space.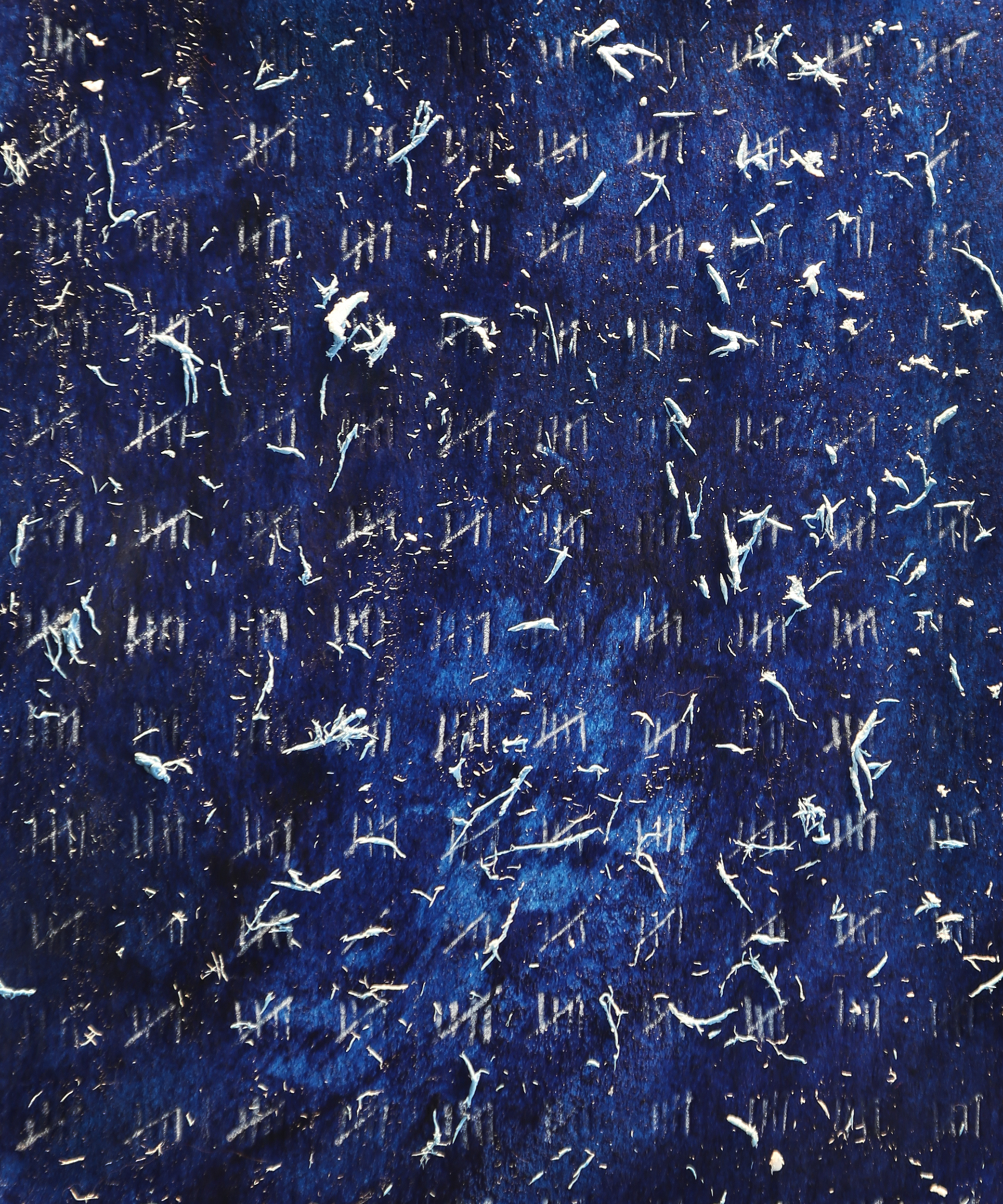 Crossing the Sea
Granta magazine asked contributors to reflect on the refugee crisis. This is my contribution, which is a detail of a drawing which records all 2,600+ deaths in the Mediterranean this year.
Each person is marked by a hash mark, a system of measurement where four lines with a cross through them signifies five units. It is usually used to tally ongoing events. This image represent a fraction of the full painting. The 2,600 lines have been drawn by hand and then rubbed out to signify each person's passing, and the resulting erasure marks evoke the dangerous sea.
The Death of Trayvon Martin, Florida, 26.2.12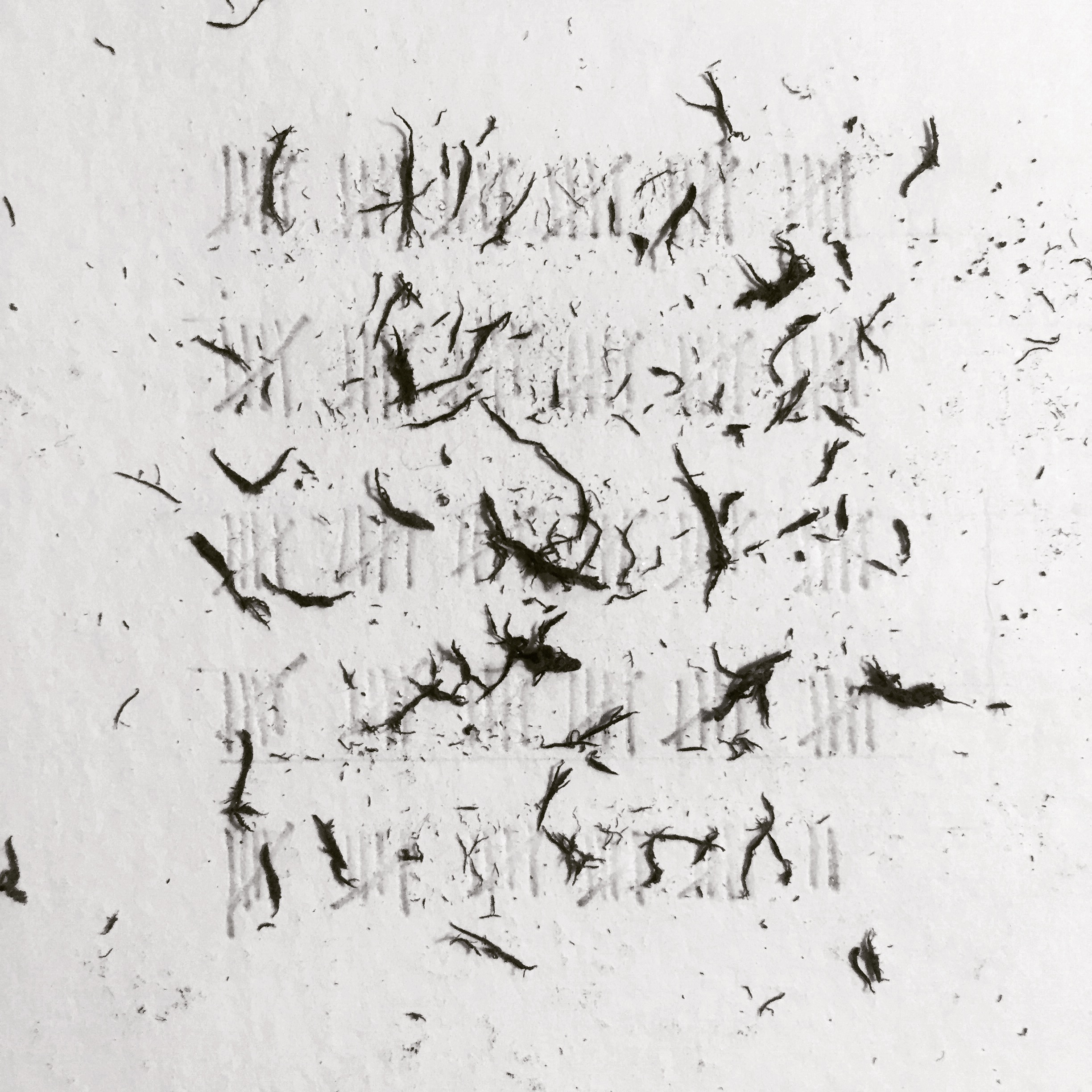 Massacre at Garissa 2.4.15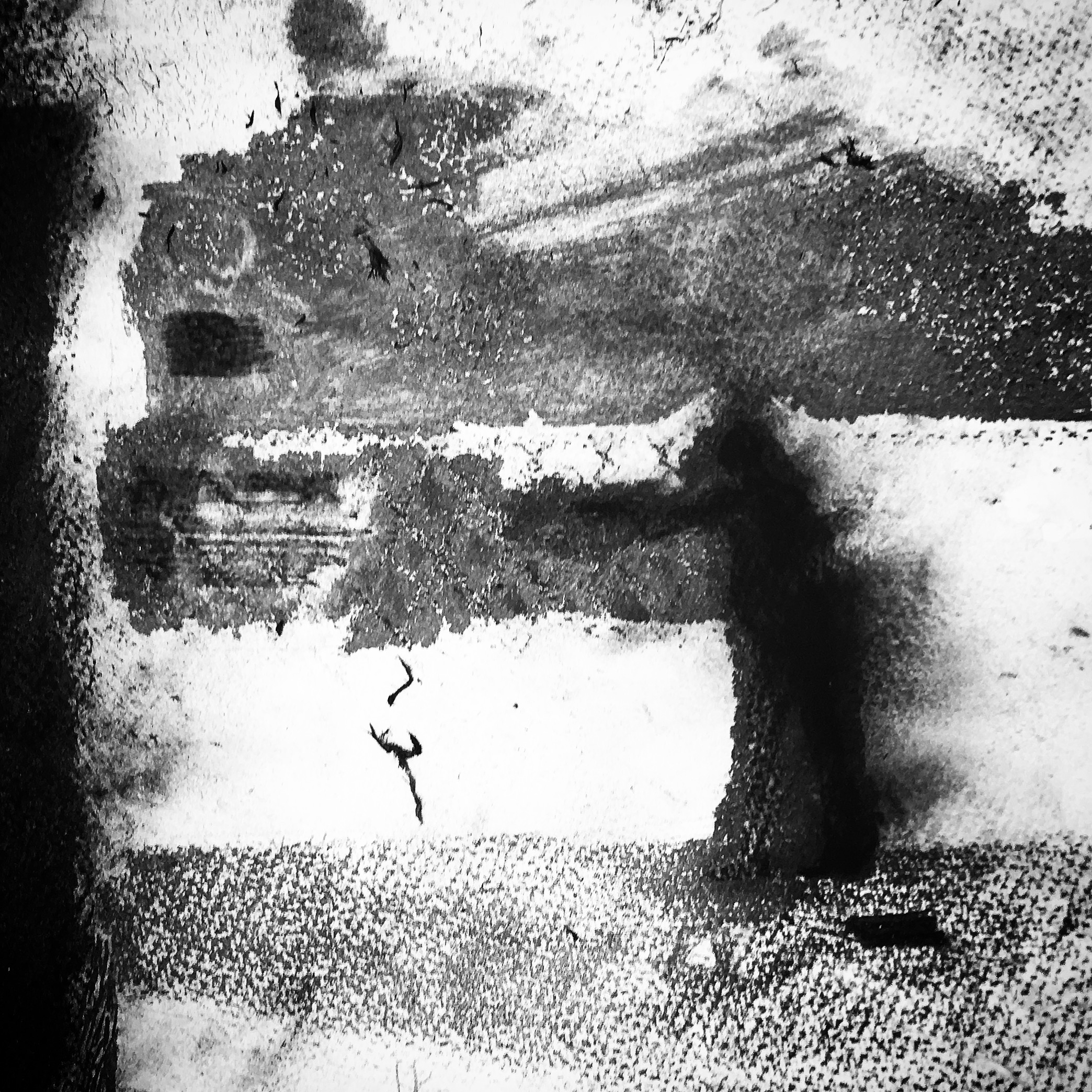 The Death of Walter Scott 4.4.15